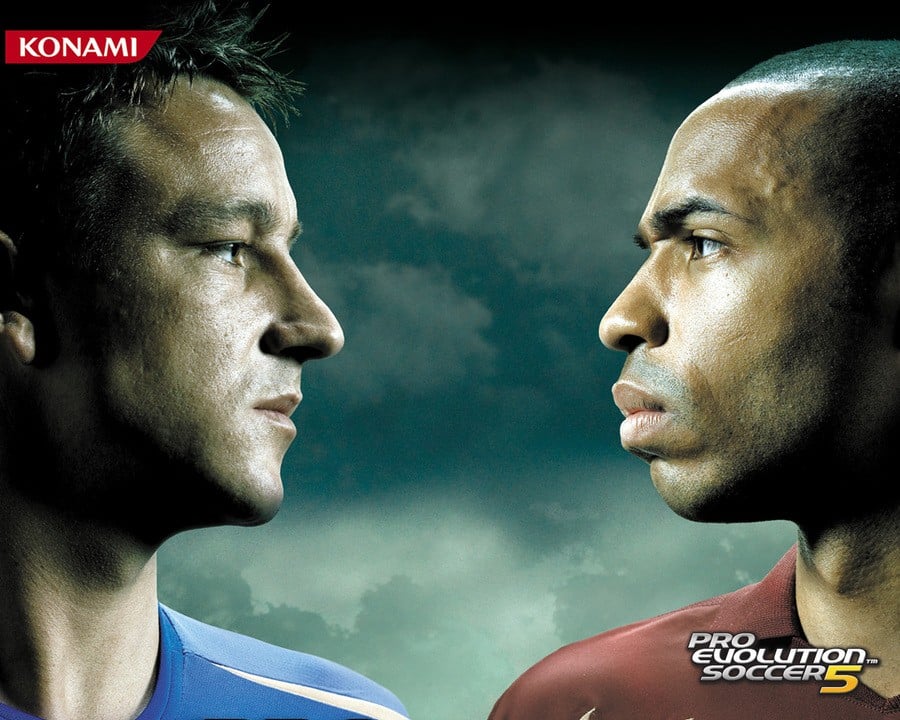 Back in the day (I promise not to use that too much in our retro articles, but just let me have this one) things were very, very different to how they are now when it came to console football. Now, we have the yearly battle between EA's FIFA and Konami's Pro Evolution Soccer franchises and that's pretty much your lot. Any new football game in today's market would require a huge financial investment in order to even get on to the same pitch as those two behemoths. With comparatively lower development costs and a shot at pocketing a huge multi-year payoff should their gamble come up trumps, seemingly every publisher had their own football title on the shelves, making for a much more varied and colourful marketplace.
Indeed, in the six years covering the life of the original Xbox between 2001 and 2007, EA alone released no less than 11 different on-pitch football games, comprising the FIFA main series, UEFA Champions League, World Cup, European Championships, and FIFA Street titles. If that isn't enough, how about 11 different managerial games from varying publishers, spanning the Championship Manager, LMA Manager, and Total Club Manager franchises? Still want more? OK, well you can throw in David Beckham Soccer, England International Football, Freestyle Street Soccer, Redcard 20-03, Sega Soccer Slam, Sensible Soccer 2006, and Ultimate Beach Soccer. Let's also not forget the staggeringly poor idea that was Codemasters' Club Football which as a new IP with absolutely no existing fanbase to sell to, was released in more than twenty-five different individually club-licenced flavours.
I'm as surprised as you are that the idea didn't make the company millions, really I am.
Ludicrous decisions aside, it would take a juggernaut of a title to stand tall above all of those contenders. With a rich bloodline that started way back in 1994 with International Superstar Soccer for the Super Nintendo, Pro Evolution Soccer 5 (or World Soccer Winning Eleven 9 if you picked it up outside of Europe) was that very game. As Konami used to be prone to do, they stumbled unconvincingly onto the new platform, releasing their confusingly monikered International Superstar Soccer 2 (which was a spin-off from the main Pro Evo series and that wasn't nearly as good) for Xbox just two months after the European launch of the machine. But it wasn't until some four years later that the Japanese publisher would really hit the gameplay jackpot.
The win was attained not only by the smooth gameplay when you were on the pitch though. Sure, local multiplayer was plenty of fun and even the online multiplayer mode was passable, if not a little bit shaky. But without a doubt, the main reason for Pro Evolution Soccer 5's success with fans of the genre (and indeed the sport as a whole) was the single-player Master League mode.
The Master League had become the stuff of legend by this point in the timeline, beginning life as a part of the original PlayStation's ISS Pro Evolution in 1999. Constantly evolving with minor tweaks year after year, the mode became the main focus point of the franchise and charged you with starting out in an entirely fictional league structure where you took over a team of relative no-hopers and had to manage and play your way into the top mix. The players in your starting squad – all as fictional as the league layout – had burnt their way into football gamers' consciousness over the years, as the team that you began with had remained relatively unchanged since the mode was introduced – barring some minor translation alterations. Who can forget the likes of Burchet bursting down the wing and then losing the ball due to having an excess of pace combined with terrible skills? Or how about the amount of times you'd shout "For crying out loud, Ordaz!" as your lanky striker's shaky heading skills meant that he'd wasted yet another hard-earned chance? Minanda in the midfield, linking up with Castolo. Stremer and Valery at the core of the defence, doing their best to pretty much just get in the way of anything that so much as threatened to go anywhere near the always-shaky Ivarov between the sticks. These players – as strange as it sounds – became like old friends. You'd feel a genuine sense of loss when Huylens retired after being your super-sub for three seasons.
In sequels made available for different formats, the Master League lost a little of its lustre as Konami tried to shape the game into all but a carbon copy of the increasingly popular FIFA series, in the hope of increasing sales. That's a crying shame, given what a huge selling point it was. Even the multi-leagued and super-licenced FIFA couldn't stand up to the somewhat ramshackle-feeling Master League in terms of fun and excitement.
The fact that in PES 5, you and your merry band of toe-pokers had the odds stacked firmly against you from the outset was nothing but a boon to anyone who knows that the sweet spot in any single-player sporting experience is when the CPU is just a little bit better than you are. Before a ball was even kicked in anger, you realised that you didn't have enough money to survive the season without either selling a player or three (unlikely, as they were all dire and nobody wanted them) during the very limited transfer windows, or by winning a game or two to pick up some bonus money. Matches in the Master League were tight, tense affairs. You could finish a season in a respectable league position, having only racked up seven goals in fourteen matches. While that sounds like every match would be tedious and boring, nothing could be further from the truth.
With the difficulty level cranked up to the maximum (with an unlockable extra level being made available after you'd earned a certain amount of points) you would get as much joy from putting together a string of perfect passes as you would from smashing the ball into the net from 40 yards in other games. The CPU would beat you with good, old-fashioned football tactics and to counteract the threat, you'd need to actually play something like real football, as opposed to console football. You'd bring your centre back Iouga out to pick up a wayward pass in the midfield, and he'd be out of position. The CPU would attempt to exploit that. Sending your midfield general for a little sojourn down the wing would result in similar problems for your team, as would sending your shortest player out to challenge for a high ball against the opposition's tallest player. When you did get a chance at goal, it was usually a snatched effort in a crowded penalty area. Thanks to the way that the game's shooting mechanic and ball physics worked, if you did miraculously get away and clear on goal, it mattered when the keeper rushed out to narrow the angle. Chips over the goalie would need to be very precise as he wouldn't just rush out and dive at your feet to nab the ball. You couldn't just blast the ball through his chest, either. In modern games, if the keeper isn't performing something that looks like a dive animation, you can bet your bottom dollar that the ball will beat him by hook or by crook. Here, whether he was at full stretch or just standing still, if the ball hit him, it would bounce away. This meant that the man with the gloves was hard to beat, since he could just be good at getting his face in the way of the ball. You also couldn't expect the game to perfectly curl your shot around him and into the corner with a single button press, so you can forget that idea as well.
The game didn't beat you with fancy trick moves or by jacking up the skills of all of the opposition team's players whenever it was 0-0 in the dying minutes. It beat you by playing the basics. By playing football. The real beauty came from the fact that even on the apparently unbeatable "six stars" difficulty level, the opposition would make rare, but realistic mistakes. Capitalising on them was the key, since a major part of the game's success was the fact that weren't any "easy" goals to be found. Every time you score, you know that you've had to work firstly to get the ball, secondly to move it to someone in a decent position, and finally to somehow best the keeper. There's none of this "lofted through ball equals guaranteed easy goal" garbage that seems to be the mainstay of modern football games. Neither was there any law that said that the only way an opposition team can beat you is if they could run faster, as there is now. No, the YouTube generation that makes and watches videos of themselves paying money to open FIFA Ultimate Team cards on camera probably wouldn't like this game all that much, mainly because if you were sick of losing, your only option was to mop up those tears and play better. No, you can't buy some DLC that turns your team into ten Cristiano Ronaldos and an Iker Casillas. Hush, now.
As well as that, Pro Evolution Soccer 5 did a much better job of representing form, fitness, and individual player skills than any game has either before it or since. At the start of a match, your defender with the weak ball control skills would just about be able to get away with a poorly-advised but brave turn around a much better striker. As he tired, the ball would get away from him if he tried the same sort of shenanigans, oftentimes leaving your keeper exposed to an oncoming threat. If you were on a poor run of form, your players would eventually resolve themselves to losing, playing at a lower level than their bare skill ratings would suggest that they should. They'd lose concentration and wander out of position from time to time, but never unrealistically so. It's a testament to the amount of thought that went into gameplay that if a player gave away a game-deciding penalty in one match, you could SEE that it was weighing on his tiny little virtual mind in the next. He'd react slower, be more prone to mistakes and no matter how good a player he was, it was worth thinking about sitting him on the bench until he had forgotten his rash challenge. If your team was out of form, a real herculean effort to get them out of the doldrums and beat an opponent would help them perk up a bit, making the next match a tad easier.
All of this combined to make a game mode that – while it still exists in modern-day versions of Pro Evolution Soccer – has never been bettered.
I can still pick up this game from ten years ago and find myself becoming re-addicted to the Master League. Even though the visuals are showing their age, there are a fair few things in there that even the most recent football titles don't get right. I can't say that I've ever jumped up while playing FIFA 15 or Pro Evolution Soccer 2015, yelling at a player by name as if I can will the criminally-overlooked fictional super-sub to point his pinky toe so that his outstretched leg can just reach the now-loose ball that's just begging for someone to push it over the line.
In the modern era, football games focus on providing high-scoring matches, incredible (and unrealistic) goals, and falsified late drama in matches in order to provide excitement. Ever felt in recent games that the team you were bossing around the park for 85 minutes had suddenly turned into the 1970 Brazilian World Cup squad in the last five in order to snatch the win? In every other match? Yep. That - apparently - is how we do "excitement" in sports games now. Pro Evo 5 had - and still has - the ability to make a no-score draw that featured a grand total of three shots on goal feel like the most epic match you'd ever played. Even when you don't win, the thrill of occasionally outfoxing the opposition - be it via a tactical change, a nice passage of passing play, or just by being freaking lucky – is still more intense and satisfying than any other football game can provide. I still get my backside handed to me by the CPU when I play now, but every game is a new challenge and a new chance to do better than I did before.
I'm an absolute fiend when it comes to football games and it's no overblown claim to say that I've played every single one released in the UK for all three Xbox platforms, as well as most of the ones on Nintendo and Sony's consoles, too. For my money, Pro Evolution Soccer 5 is the absolute king of them all, and remains so to this very day. Long live the king.