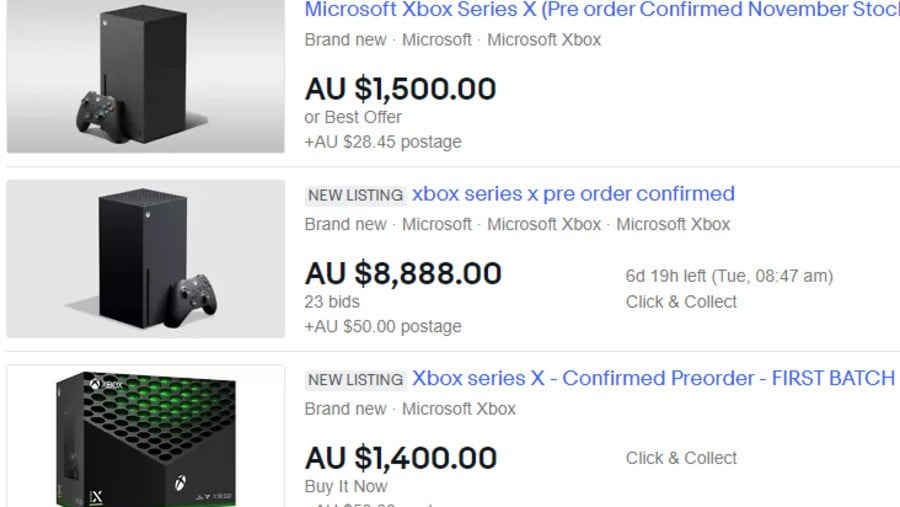 Australia was one of the first countries in the world to open pre-orders for the new Xbox Series X|S and as you might have heard, it sold out within "record" time.
There were some technical issues as well. The website of EB Games (owned by GameStop) was overloaded and various other local retailers filled pre-orders and sold out of both systems within minutes.
Now, just to rub it in, listings are already starting to pop up on eBay:
The sellers - or should we say, scalpers - aren't exactly making an effort to fool anyone, either. Noticeably a lot of these systems are at least double the retail price and some even have bids on them. Here are some descriptions from a few of the listings:
"Hi selling my launch day Pre-order for Xbox X series . Will be sent on same day or next thanks"
"This is a confirmed pre order from JB HI-FI for the 10th of November, will be posted same day with express post"
The Xbox Series S isn't safe either:
It's very disappointing to see this happen when a lot of people have been unable to secure a unit. All we can advise is that you don't encourage these practices by buying a system from these sellers.
Have you ordered a next-gen Xbox yet? Still waiting for pre-orders to open? Tell us down below.
[source twitter.com]