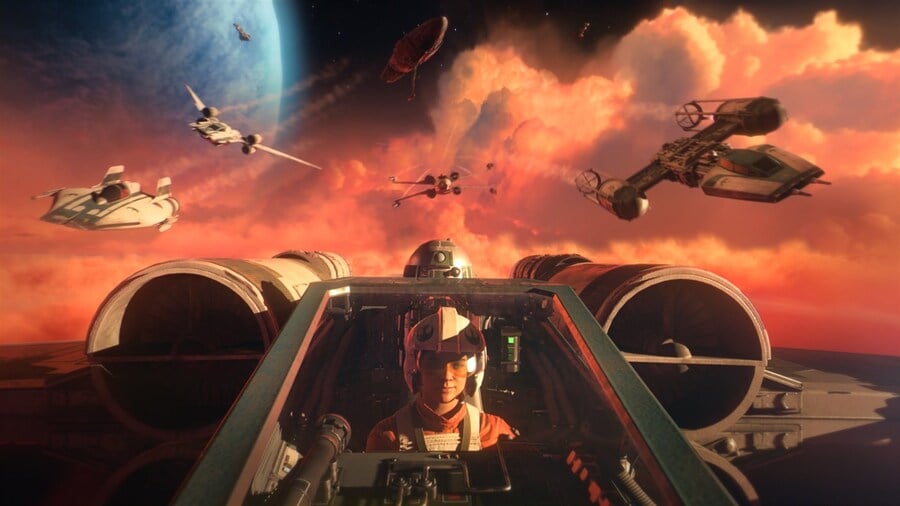 Welcome to your weekly Xbox roundup! It's a slightly quieter week for new releases on the platform, but we've got two big hitters arriving in the form of Crash Bandicoot 4: It's About Time and Star Wars: Squadrons.
Let's take a look at the full list of upcoming games below:
---
Bartlow's Dread Machine (Sep 29): "A twin-stick arcade shooter with single-player and co-op play modes, six lively game worlds and a cast of strange monsters and historical characters."
Projection: First Light (Sep 29): "Projection: First Light follows Greta, a girl living in a mythological shadow puppet world, as she embarks on a journey across cultures meeting legendary heroes on an illuminating voyage of self-enlightenment."
Re:Turn - One Way Trip (Sep 29): "Re:Turn - One Way Trip is a 2D side-scrolling puzzle-adventure horror game. Trapped in a ghostly train, Saki must search the past and present to find and save her friends."
Birthday of Midnight (Sep 30): "Everyone's favorite fairy is back and ready to be once again launched into the sky. But as always, treacherous obstacles like spikes, circular saws, and plenty of other dangerous hazards are par for the course."

Commander '85 (Sep 30): "Commander 85 is a sci-fi thriller about a seemingly ordinary birthday present that changes the lives of the main characters forever, disturbing the sleepy peace of the Chicago suburbs."

Feather (Sep 30): "Feather is a multiplayer game about exploration, relaxation and immersion. Transform yourself into a bird, take flight, and enjoy a zen-like, picturesque landscape on your own terms."
Inertial Drift (Sep 30): "Forget everything you know about drifting. Set in a '90s retro future, Inertial Drift is an arcade racer with a devastatingly unique handling model and unbelievably satisfying twin-stick drift mechanics."
Swordbreaker (Sep 30): "Heroic-fantasy interactive story inspired by the classic "choose your own adventure" books. Make crucial decisions that will lead your path to glorious or fatal outcomes..."
FIFA 21 Trial with EA Play (Oct 1): "EA Play members can try FIFA 21 before launch starting October 1 and score exclusive pre-launch challenges and rewards..."
Orangeblood (Oct 1): "It's the end of the 20th century, on a historic timeline different from that which we know.A manmade island off the coast of Okinawa is humming with a dirty, exotic vibe - and it's awesome!"
Crash Bandicoot 4: It's About Time (Oct 2): "It's About Time - for a brand-wumping new Crash Bandicoot™ game! Crash fourward into a time shattered adventure with your favourite marsupials."
Dragon Lapis (Oct 2): "Make a return to the golden age of RPGs with 8-bit graphics and chiptunes. By unlocking growth plates, characters are able to strengthen parameters, learn skills, and increase job rank!"

Let's Sing Queen (Oct 2): "Grab the microphone and get ready to rock! Sing alone or share the stage with your friends in compelling game modes while you follow in the footsteps of Queen, the biggest rock band ever, with the legendary lead singer Freddie Mercury.
Star Wars: Squadrons (Oct 2): "Buckle up, feel the adrenaline of first-person multiplayer space dogfights alongside your squadron, and learn what it means to be a pilot in a thrilling Star Wars single-player campaign."

Warsaw (Oct 2): "WARSAW is a challenging turn-based tactical RPG set in the ruins of a besieged city during the closing months of WWII. Lead your ragtag team of insurgents..."
More details and screenshots for most of these titles are available over at Xbox Wire. Is there anything you're particularly looking forward to in this list? Let us know in the comments below.