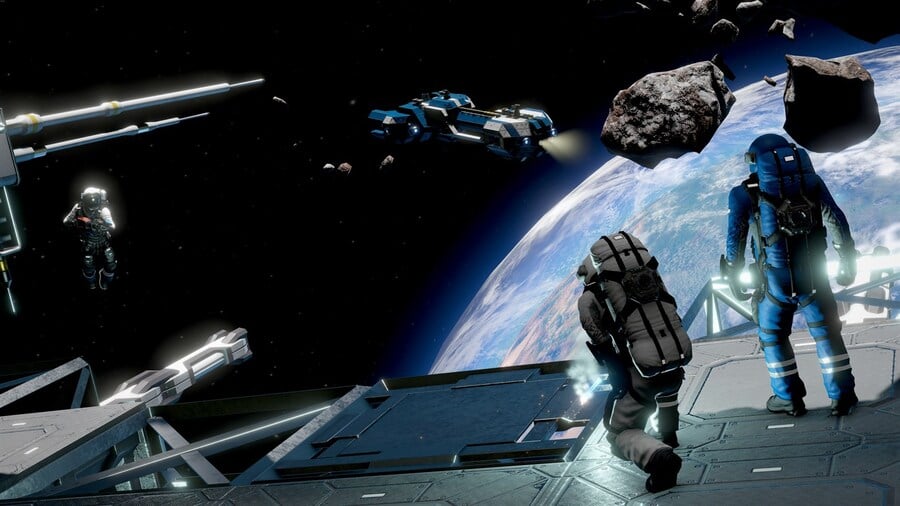 Next week's releases are highlighted by the Journey to the Savage Planet: Hot Garbage DLC, as well as the console launch exclusive Space Engineers, with both dropping on Wednesday (although the latter might be coming out earlier?) Let's take a look at the full list of games below, courtesy of Mike Nelson over at Xbox Wire.
Journey to the Savage Planet: Hot Garbage DLC (April 15): "The planet of DL-C1 has it all. Tropical beaches, lovely views, toxic waste, and killer robots."
Space Engineers (April 15): "Space Engineers is an open world sandbox game defined by creativity and exploration.
Blind Men (April 15): "As the nephew of a retired super villain, there's nothing Keegan wants more than to become one himself."
Vampire: The Masquerade - Coteries of New York (April 15): "A narrative experience set in the rich universe of Vampire: The Masquerade 5th Edition."
Machinarium (April 16): "The award-winning independent adventure game developed by the makers of Samorost and Botanicula."
Save Your Nuts (April 16): "Put your cooperation skills to the test over intense physics-based battles mixing casual offline modes and competitive online matches."

Cryogear (April 17) "A passionately handcrafted, Metroidvania inspired Pixel Art platformer with souls-like mechanics set in an open sci-fi world."

Sinkr (April 17): "Sinkr is a minimalist puzzler. There is just you, hooks, pucks, and various contraptions you need to finish each level."
Sunless Sea: Zumbariner Edition (April 17): "Take the helm of your steamship in a Victorian Gothic roleplaying game of discovery, loneliness and frequent death."

Freakout: Calamity TV Show (April 17): "A juicy top-down, dual-stick shooter inspired by old school arcade games and more recent die & retry shooters."

Woodle Tree 2: Deluxe+- (April 17): "This time a new menace is taking over the wood lands with a black substance that is absorbing life and energy from all living creatures!"
More details and screenshots for all titles can be found at Xbox Wire. Is there anything you're particularly looking forward to in this list? Let us know in the comments below.
[source news.xbox.com]