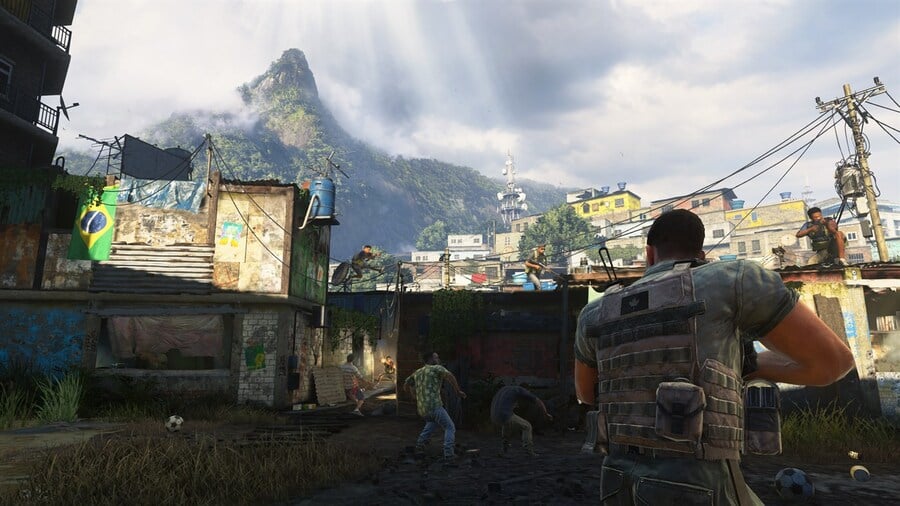 Talk about a big week ahead! There are over 20 games coming to Xbox One next week, including major titles such as SnowRunner, Moving Out, Streets of Rage 4 and the highly-anticipated Call of Duty Modern Warfare 2 Campaign Remastered. Let's take a peek at the full list of games below, courtesy of Mike Nelson over at Xbox Wire.
---
Daymare: 1988 (April 28): "DAYMARE: 1998 is a third-person survival horror game that recreates the mood of iconic titles from the '90s, with a fresh storyline."
Ghost Sweeper (April 28): "Many items, cartoon graphics with many fun details, a game-play that mixes action and puzzle."
Moving Out (April 28): "Moving Out is a ridiculous physics-based moving simulator that brings new meaning to 'couch co-op'!"
SnowRunner (April 28): "SnowRunner puts you in the driver's seat of powerful vehicles as you conquer extreme open environments with the most advanced terrain simulation ever."

Telling Lies (April 28): "An investigative thriller game with non-linear storytelling, Telling Lies revolves around a cache of secretly recorded video conversations."

The Inner Friend (April 28): "Descend into an eerie world made of scattered memories and unresolved traumas and explore a nightmarish landscape where you will come face to face with childhood fears and nightmares."
Active Neurons - Puzzle Game (April 29): "Active Neurons is a game that trains the player in spatial logical thinking."
Crawlers and Brawlers (April 29): "Go on a fantastic adventure of killing enemies, grabbing loot, and defeating powerful bosses with three different classes in this classic 8bit inspired RPG."

Dread Nautical (April 29): "A tactical turn-based RPG with roguelike elements, Dread Nautical combines immersive gameplay with a cartoonish—yet captivatingly eerie—tone."

Gun Crazy (April 29): "Gun Crazy is a fast paced and hectic arcade style action shoot em' up in this homage to classic old school classics!"

Shred! 2 - ft Sam Pilgrim (April 29): "Ride as Mountain Bike legend Sam Pilgrim, and use the advanced trick system to bust out insane combos in over 40 hand crafted levels."
Star Crossed (April 29): "StarCrossed is an action arcade game with a magical girl aesthetic and a cooperative twist!"
Call of Duty: Modern Warfare 2 Campaign Remastered (April 30) "Relive the epic single-player Campaign from the 2009 blockbuster Call of Duty®: Modern Warfare® 2, remastered for a new generation in true high-definition."
Levelhead (April 30) (Xbox Game Pass): "Build, play, share and compete in Levelhead, the platformer maker."

Streets of Rage 4 (April 30) (Xbox Game Pass): "Streets of Rage 4 builds upon the classic trilogy's gameplay with new mechanics, a fresh story and a gauntlet of dangerous stages with a serious crime problem."

Antigraviator (May 1): "Antigraviator is a sleek new take on the anti-gravity racing genre. Use traps, power-ups and boosts to overtake your opponents and dominate the track in single player or multiplayer mode."

Arcade Spirits (May 1): "Set in 20XX, Arcade Spirits is a visual novel romantic comedy with a different history, where arcades still reign supreme as the ultimate place to play."
Chop is Dish (May 1): "Chop is Dish tells the story of one cook who was robbed by some mystical creatures."
Fight the Horror (May 1): "Fight the Horror - for those who enjoy thrillers, urban myths, lunatic manga plot or fight back in a horror game!"
Miden Tower (May 1): "Miden Tower is a fantasy RPG with a compelling and dramatic story."

Robot Squad Simulator X (May 1): "In Robot Squad Simulator you take role of an operator of remote-controlled robots used during military missions, spy missions and rescue operations.

Sin Slayers: Enhanced Edition (May 1): "Sin Slayers is an RPG with roguelike elements set in a dark fantasy world, where your choices determine how challenging the fights and enemies will be."

Super Toy Cars 2 (May 1): "Super Toy Cars 2 is a fast paced arcade racing game where you control miniature cars that speed across amazing tracks made of supersized everyday objects."
More details and screenshots for all titles can be found at Xbox Wire. Is there anything you're particularly looking forward to in this list? Let us know in the comments below.
[source news.xbox.com]