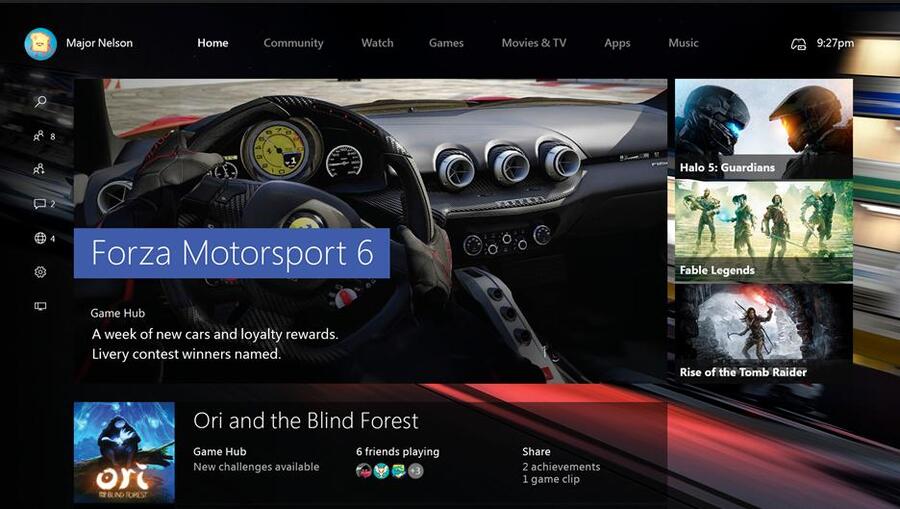 Microsoft's Xbox Engineering team have been hard at work preparing the new Xbox One Dashboard since officially unveiling it at E3 this year. Xbox One owners who have been part of the Xbox Preview Program have been patiently waiting to hear when they can get their hands all over the new OS to put it through its paces.
Mike Ybarra, Director of Program Management for Xbox, recently appeared on Major Nelson's podcast to discuss the update. He outlined a few key points such as the new Windows 10-based OS being able to handle some processes up to 50% faster than the current version. Ybarra also relayed details of how this latest preview build will be an opt-in update, with Preview Members set to receive messages regarding their access via Xbox Live.
The most important information to many was regarding when can they expect to see the update as a preview member. Ybarra was able to answer this by saying it would be rolled out in waves, with those gamers who have given the most feedback and bug reporting - those who are using the Preview Program in the spirit that it was intended to be used, in other words - getting access first. He also hinted that the first wave was happening very soon.
However, since then there has been no further word from Microsoft, no Xbox Live messages and no reports of the new UI appearing in the wild. A member of the Xbox Forums team who goes bay the name "UrbanizedTree" has however been able to shed some light on the matter with the following post;
"Just to break the radio silence, we're taking care of some last minute logistics and will get the invites out to Preview members soon. I can't promise any specific dates or times except to say we currently expect these to be sent this week, and are working hard to ensure it happens sooner than later."
The New Xbox One Experience Dashboard is due for general release in November along with the new Backwards Compatibility feature. Be sure to check back with Pure Xbox for more news as it develops, as well as a full breakdown of the new UI just as soon as we can get it to you.
[source forums.xbox.com]